Of the many available settings associated with your Google account, Web & App Activity may not be one with which you are familiar—but as a record of almost everything you do on Google sites, apps, and services, it is certainly worth taking a closer look at this feature.
Web & App Activity includes your searches and activity in Google Search, Google Assistant, Google Maps, Google Photos, Google News, and YouTube, plus your browsing history in Google Chrome. It also stores diagnostic and usage information from Android smartphones. Additionally, Web & App Activity can include information from apps and sites that partner with Google to show ads, or that use Google services. And even if you are offline or signed out, activity can still be saved.
Google collects so much information about its users for a number of reasons:
First, Google is a dominant provider of services on the Internet today—it's hard to avoid! Google Search is the most popular search engine, YouTube is the main source of video on the Internet, and Google Maps has only recently had competition from Apple Maps.
Second, Google aims to personalize your experience: when a service knows your previous searches and how you used the results, it can adjust its behavior to improve future usage. (For example, YouTube recommending videos based on what you've watched before, or Google Search results that are near your location.)
Third, Google wants to give advertisers the best chance of enticing you to click on their ads, since the bulk of Google's revenue comes from companies paying Google to display their ads.
Most people experience a tension between personalization and advertising: you may want Google to know more about you so its services work better, but not so much that Google can charge advertisers a higher price for access to you. Google claims that people prefer personalized ads, but we find that most people dislike having ads follow them around the Internet.
Your decision about how to configure Web & App Activity depends on what you think about personalized ads, and how much benefit you believe you derive from the personalization of Google apps and services. You can pause Web & App Activity via a single switch on your Activity Controls page, although you have to acknowledge that it may impact your experience of Google sites, apps, and services signed in to your account. (Scrolling down on this same page gives you access to the settings for Location History, YouTube History, and Personalized Ads.)
Under the "See and delete activity" heading, you can click icons for each service to get a sense of what Google has recorded about you—and you can delete data manually if desired. Google can also automatically delete activity older than 3 months, 18 months, or 36 months; just consider if you'd like to keep data longer so you are able to review what you did in the past.
In the Subsettings section of the Web & App Activity card, we suggest disabling the inclusion of Google Chrome history and activity from sites, apps, and devices that use Google services; the privacy intrusion does not trump the possible improvements to your Internet experience. Another checkbox to consider here is for voice and audio activity, which Google uses to improve its audio capabilities. While Google anonymizes and deletes the data after 7 days, human reviewers may still listen to your audio samples before that point, which makes some users uncomfortable.
Google separates three major privacy settings from Web & App Activity:
Location History: When this setting is on, Google knows where you go with your devices—even when you aren't using a specific Google service. With this information, Google gives you personalized maps, location-based recommendations, and more.
YouTube History: Enabling this setting saves the videos for which you search and watch, in order to provide recommendations, remember where you left off, and more. If you are bothered by your video-viewing being associated with your account—or if you are watching content that could embarrass you if it got out—then you will want to disable this setting.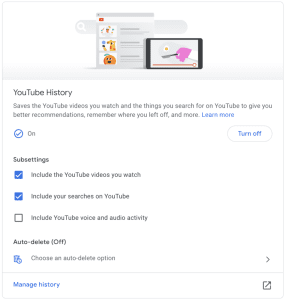 Ads: To prevent Google from using your information to help advertisers entice you to buy more stuff, you can disable personalized ads from Google. Remember that you will still see the same amount of ads—they will just be less targeted at you personally.
Finally, there is also a collection of lesser-known Google services that track your activity. They can be found on the same Web & App Activity card, then at the bottom click Manage All Web & App Activity, then Other Activity in the sidebar. This set of services includes controls for:
Google Pay
Google Wallet
Google Workspace search history
YouTube channel subscriptions
YouTube "Not Interested" feedback
Other Google-related services
If it bothers you to have Google collecting all this data, try disabling everything and seeing if the lack of personalization makes for a worse experience. Or, pick and choose based on things that perturb you more or less (think: location tracking vs. YouTube history), and through trial-and-error, you can land on a comfortable customization of exactly how Google saves information about you. For more guidance, or if you have any questions, the experts at MC Services would be happy to help—reach out today!
(Featured image by iStock.com/ValeryBrozhinsky)