I recently taught a Keynote course for an Advertising Agency in San Francisco. It was a custom course for the customer and one of the stated requirements was to cover collaboration.
My normal Keynote course has a slide deck and then some exercise files for each student.
In order to emphasize collaboration, we decided to have one exercise deck for the entire class shared by the entire class. It was amazing to see the presentation grow as 11 people worked on it at once.
Even more amazing was that one of the students had a Mac that only had Sierra installed so when he got the link the presentation opened in iCloud.
At that time, the lone PC user there "just to observe" opened the presentation on his PC and began editing in a browser.
Pretty cool.
Unfortunately, Apple doesn't publicize the collaboration features of Keynote, Pages, and Numbers.
Using Pages to collaborate is just like the feature that everyone likes about Google Docs with the advantage that you can use a desktop app.
You are not constrained by a browser's limitations and even more important for travelers, you can edit off-line when you do not have an internet connection.
You can also use the backups and versioning features of the Apple apps.
How does it work?
Assuming you have an Apple ID (they are free)
Try it this way:
Open a document in Pages
Save it
Click the Collaborate icon in the toolbar


The following dialog will appear: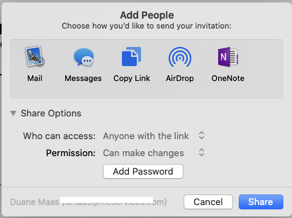 I recommend selecting the option "Anyone with the link" can access the document and "Set a password" for the document if you are worried about security.
Once you send them the link they can open up the document, and if multiple people edit at the same time you will see changes appearing in real-time.
Try it, you'll like it.
Apple has more information on collaboration on their website at https://support.apple.com/en-us/HT206181